Building Updates
HELP RENOVATE THE NEW ST. ELIAS
OVERVIEW
St. Elias Church is dedicated to spreading the gospel of Jesus Christ in accordance with the Orthodox Christian tradition.
For over 60 years, St. Elias Greek Orthodox Church has been the only Eastern Orthodox community in the Tri-State area, serving all Orthodox Christians of every background.
However, we experienced major devastation when our original building's roof collapsed, and its walls were found not to be structurally sound.

But you can help!

By supporting this project you will help keep Orthodox Christianity alive in Dubuque, IA as well helping us continue to engage the Tri-State area (Iowa, Illinois, and Wisconsin) with the gospel of Jesus Christ as it has been preached since the day of Pentecost!
WHAT HAPPENED
NOW WE NEED YOUR HELP
St. Elias Church's active role in the Dubuque community was interrupted. During the harsh winter of 2014, the weight of snow and ice accumulating on the church roof caused 3 of the 4 trusses to snap like tooth picks. The exterior walls also buckled outward by 8 to 10 inches.
St. Elias Church was condemned as unsafe and could no longer be used for church services, community activities, or community cultural and religious experiences.
After a year of meeting with engineers, construction companies, design teams, and other professionals, it was determined that our original building could not be saved.

After much prayer and discernment, we were blessed to be able to buy a new home at 419 N. Grandview Ave, Dubuque.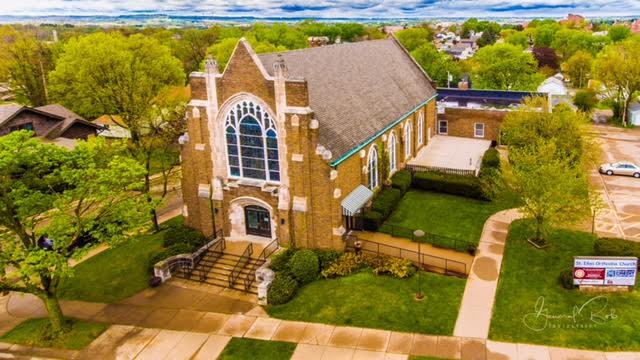 To date, we have moved to our new building and setup a chapel, office, Sunday school room, and gathering area. We are now currently in the process of raising money to renovate the sanctuary and fellowship hall.
HOW YOU CAN HELP
Our next step is to make sure the funds are there to complete this project. This is where you come in.
TOGETHER, we can put build a new home. Together we can continue to spread the Good News about Jesus Christ in the Orthodox fashion. Together we can continue to engage the community with art exhibits, chant events, ecumenical dialogues, and food festivals! Together, we'll work to build the kingdom of God!

(You may send checks to 419 N. Grandview Ave., Dubuque, IA 52001.)
Thank you!