Welcome to St. Elias the Prophet Church
419 N. Grandview Ave.
Dubuque, IA 52001
563-583-5902
Facebook: www.facebook.com/StEliasProphet
---
Service Schedule
The Orthodox Church is the timeless Christian faith for all peoples, everywhere, and of all backgrounds. We'd love to greet you at any of our services.

Services are in English, though we do the Lord's Prayer in various languages (Orthodoxy is, after all, a universal faith). We love to welcome guests anytime.
Saturdays
Vespers, 4 pm
Sundays ­-
Orthros, 9 am
Divine Liturgy (Orthodoxy's main service), 10 am
Sunday School, following communion.
For more information on our services please contact the Church office at (563) 583-5902 between the hours of 9:00 AM - 4:00 PM, Monday through Thursday.
---
Check out Fr. Dustin's website, Rediscovering Christianity, here.
---
Upcoming Gyro Days
(All scheduled Gyro Days are on a Friday from 11 am - 2 pm at our address above)
May 11th
June 29th
July 13th and 27th
August 17th
September 7th and 28th
---
MISSION:
St. Elias Church is dedicated to spreading the gospel of Jesus Christ in accordance with the Orthodox Christian tradition.
VISION:
We seek to fulfill our mission by:
SUPPORTING the Church's ministries through stewardship of time, talent, and treasure.

HELPING one another and our community through service and charitable outreach.

AFFIRMING a new life in Christ by living Orthodox Christian morals and virtues.

PROVIDING a welcoming, caring, and loving environment for all.

EMBRACING the spiritual life of the Orthodox Church through regular prayer, worship, and frequent participation in the sacraments.

ESTABLISHING a communion of friendship and fellowship for members and their families.
---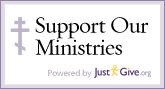 Worship
O Come, let us Worship and bow down before our King and God. O Come, let us worship and bow down before Christ, our King and God. O Come, let us worship and bow down to Christ Himself, our King and God. Learn more»