Welcome to St. Elias the Prophet Church
419 N. Grandview Ave.
Dubuque, IA 52001
563-583-5902
Facebook: www.facebook.com/StEliasProphet
---
Services Schedule
Saturdays
Vespers, 4 pm
Sundays ­-
Orthros, 8:30 am
Divine Liturgy, 9:30 am
Sunday School, following communion
Bible Study ­–
1st and 3rd Wednesdays at 10:00 am; 2nd and 4th Wednesdays at 5 pm

For more information on our services please contact the Church office at (563) 583-5902 between the hours of 9:00 AM - 4:00 PM, Monday through Thursday.
---
---
MISSION:
St. Elias Church is dedicated to spreading the gospel of Jesus Christ in accordance with the Orthodox Christian tradition.
VISION:
We seek to fulfill our mission by:
SUPPORTING the Church's ministries through stewardship of time, talent, and treasure.

HELPING one another and our community through service and charitable outreach.

AFFIRMING a new life in Christ by living Orthodox Christian morals and virtues.

PROVIDING a welcoming, caring, and loving environment for all.

EMBRACING the spiritual life of the Orthodox Church through regular prayer, worship, and frequent participation in the sacraments.

ESTABLISING a communion of friendship and fellowship for members and their families.
---
HELP RENOVATE THE NEW ST. ELIAS
(See rebuilding photos by clicking here)

OVERVIEW
St. Elias Church is dedicated to spreading the gospel of Jesus Christ in accordance with the Orthodox Christian tradition.
For almost 60 years, St. Elias Greek Orthodox Church has been the only Eastern Orthodox community in the Tri-State area, serving all Orthodox Christians of every background.
However, St. Elias in Dubuque experienced major devastation when its roof collapsed, and its walls were found not to be structurally sound.

But you can help! (You may send checks to 1075 Rockdale Rd, Dubuque, IA 52003)

By supporting this project you will help keep Orthodox Christianity alive in Dubuque, IA as well helping us continue to engage the Tri-State area (Iowa, Illinois, and Wisconsin) with the gospel of Jesus Christ as it has been preached since the day of Pentecost!
WHAT HAPPENED
NOW WE NEED YOUR HELP
St. Elias Church's active role in the Dubuque community has been interrupted. During the harsh winter of 2014, the weight of snow and ice accumulating on the church roof caused 3 of the 4 trusses to snap like tooth picks. The exterior walls also buckled outward by 8 to 10 inches.
St. Elias Church was condemned as unsafe and could no longer be used for church services, community activities, or community cultural and religious experiences.
After a year of meeting with engineers, construction companies, design teams, and other professionals, we have bought a new building at 410 N. Grandview Ave, Dubuque, and we are now rasing money for renovations.
HOW YOU CAN HELP
Our next step is to make sure the funds are there to complete this project. This is where you come in.
Every donation you make will be matched, up to $250,000 by the John C. Kulis Charitable Foundation of Chicago.

TOGETHER, we can put build a new home. Together we can continue to spread the Good News about Jesus Christ in the Orthodox fashion. Together we can continue to engage the community with art exhibits, chant events, ecumenical dialogues, and food festivals! Together, we'll work to build the kingdom of God!
Thank you!
---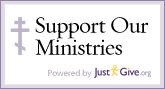 The Church
The life of the Orthodox Church perpetuates and fulfills the ministry of Jesus Christ. The close association between Christ and His Church is reflected in the images from the Scriptures which declare that Christ is the Head and the Church is His Body, and that Christ is the Bridegroom and the Church is His bride. Learn more»