A Warm Welcome to All Our Guests
We warmly welcome all those persons worshiping the Holy Trinity to join with us. We are honored by your visit. We are interested in greeting you following any of our services and to be of assistance in whatever way we can. Please introduce yourself to our pastor, Father Dustin, after the service. In the meantime, you can engage Fr. Dustin at his blog (dustinlyon.wordpress.com).
Be Our Guest
We love to welcome guests, but we realize that attending an Orthodox Christian worship service for the first time can be intimadating. To become more familiar with us and our services, take a look at the videos below.
---
In this video, you're introduced to the architecture and space of an Orthodox Church.

---
Our Sunday worship begins on Saturday evenings, 4 pm, with a service called Vespers. Here's a bit more information on that service.


---
Our main Sunday service is called the Divine Liturgy, 10 am. Here's a video to introduce you that service.
What Is the Orthodox Church?
The Orthodox Church is the original Christian Church founded by Jesus Christ on Pentecost (Acts 2) and continued by his Apostles. It is the One, Holy, Catholic, and Apostolic Church described in the Nicene Creed. It is the same Church described in the Bible as the Body of Christ and the Bride of Christ (1 Corinthians 12: 27; Ephesians 5: 23–25). Throughout its 2000-year history, Orthodox Christianity has remained faithful to the teachings and practices passed on from the Apostles and early Church Fathers (2 Thessalonians 2: 15). In accordance with Scripture, it has maintained its unity and oneness since the beginning (John 17:11, 21-23; Romans 12:5; I Corinthians 1:13, 12:12; Galatians 3:28; Ephesians 4:3-6; Colossians 3:15).
The Orthodox Church today is an invaluable treasury of the rich liturgical tradition from the earliest centuries of Christianity. The sense of the sacred, the beauty and grandeur of the Orthodox Divine Liturgy make the presence of heaven on earth live and intensive. Orthodox Church art and music have a very functional role in liturgical life and help even the bodily senses to feel the spiritual grandeur of the Lord's mysteries.
More information can be found here.
A video series can be found here.

There are also a few good books to read:
Welcome to the Orthodox Church by Frederica Mathewes-Green
The Orthodox Church by Metropolitan Kallistos (Timothy) Ware
For the Life of the World by Fr. Alexander Schmemann
Introducing the Orthodox Church: Its Faith and Life by Fr. Anthony Coniaris
If you have any questions, please feel free to ask!
Communion
While only Orthodox Christians in good standing are permitted to commune, we invite everyone to receive the Holy Bread at the end of the Divine Liturgy, and be sure to join us for fellowship afterwards. If you have any questions, please feel free to ask the priest.
First Time Visitors
12 Things I Wish I'd Known… First Visit to an Orthodox Church by Frederica Mathewes-Green
"Orthodox worship is different! Some of these differences are apparent, if perplexing, from the first moment you walk in a church. Others become noticeable only over time. Here is some information that may help you feel more at home in Orthodox worship—twelve things I wish I'd known before my first visit to an Orthodox church." Read the full list here.
Converting to Orthodox Christianity
There are many reasons to convert to Orthodox Christianity, but the most important question to ask yourself is this: Is it here, in this Church, that I draw near to my Lord and Savior Jesus Christ? If the answer is, "yes," then you may be ready to start the conversion process.
Fr. Josiah Trenham describes conversion in this way:
"The process of becoming an Orthodox Christian can be compared very closely to the process of becoming a married person for it involves the same basic movements of courtship, engagement and marriage. When a person first becomes interested in the Orthodox Church a series of initial interactions take place. Perhaps one visits for a liturgy, researches Orthodoxy on-line, or engages in a conversation with a friend who is Orthodox. If these initial interactions are blessed, a more studied process of inquiry follows which can be compared to the process of courtship. One who launches into this dance with the Church is called by the Church an inquirer or a seeker. After launching into the 'dance' as an inquirer and determining with their priest that it is appropriate for them, one can then become a catechumen and begin formal preparation for being received into the Orthodox Christian Church."
After becoming a catechumen, there is a period of formal instruction and learning with Fr. Dustin. The catechumen learns about the Church and the local parish, and the local community gets to know the catechumen. This process is about forming a relationship.
When the time is right, the catechumen is formally received into the Orthodox Church either through baptism, or through chrismation (an anointing with an oil called chrism, which is made by the Ecumenical Patriarch). The catechumen is now the newest member of the Body of Christ and is newly illumined.
If you are interested in uniting yourself to the historic Church of Christ, please speak with Fr. Dustin.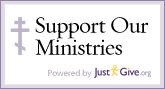 History
The Church has her origin with Jesus Christ and the Holy Spirit, not with a human teacher, or group, nor a code of conduct or religious philosophy. Learn more»